All audiences from 15 years-old
On stage: a lone actor, a table, a camera… and dozens of objects he will use to build, design and conjure up imaginary cities. Sometimes, he tells the agonizing tale of a city; every so often, he describes the residents of another city. In one case, he focuses on architecture and urban planning; in another, on the demographic boom. His camera, his very own crystal ball, draws the audience into the beating heart of a modern city and its obsessions. With each city, the narrator presents a different view of the world, musings on time, and questions human relations. Each city is in some way a metaphor, a symbol, an effigy.
With their signature low-tech approach, Olivier Ducas and scenographer Julie Vallée-Léger explore the symbolic and poetic value of objects as they create an unusual collection of imaginary cities. There are no typical scenarios, conventional machinations or characters in the throes of psychological transformation here. Villes is a list, a collection. The work's meaning can be found in its twofold approach to storytelling:
– first, as a series of portraits of each city as told through the objects, the camera lens and the traveller's tales;
– second, as a medley of interrelated portraits that are linked either based on their theme, their form (mirrors, sand, photographs, etc.) or their writing style (description, enumeration, personal testimony, etc.).
With this production, Olivier Ducas continues his reflection on the tension between reality and imagination, and on the overpowering influence of projected images, a reflection he began in 2008 with Roland, la vérité du vainqueur.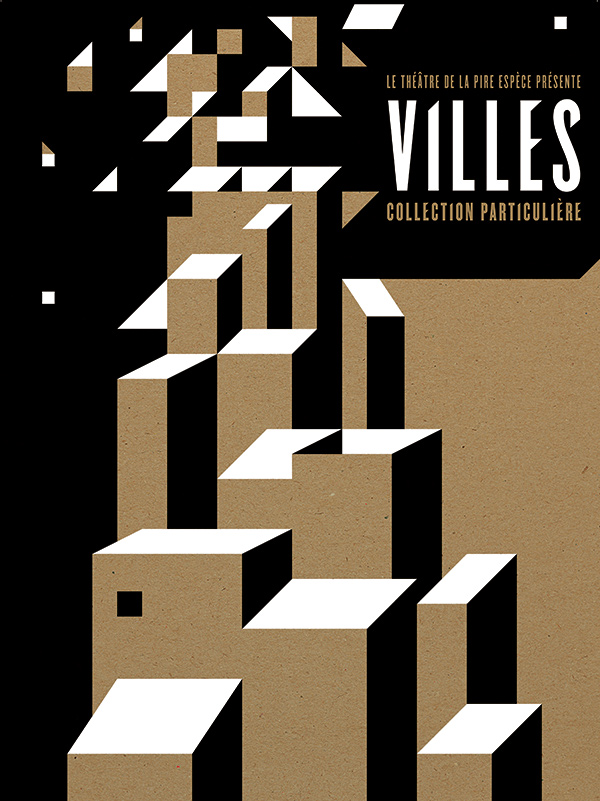 Illustration Julie Vallée-Léger / graphisme Laurent Pinabel

Documents
>
For promotional material and technical information, go to the
Pro Page